Aéro-Lune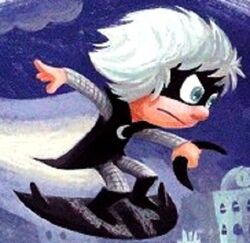 Sorceline's primary method of travel
The Aéro-Lune (lit: Flying Moon) is a enchanted board that Sorceline uses to travel around Tarabiscoville.
It is identical to the Luna Board, except for a few differences:
The board is black in color instead of being purple.
The accents at the top of the board has a lightning bolt pattern scheme instead of having a half moon pattern scheme.
The board lacks insertable foot pads.
It cannot be summoned by shouting the name out loud.