Acolytes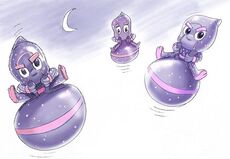 An example of a group of acolytes, the Ninjazouaves
Acolytes (also known as Sidekicks, Helpers, Minions, Servants or Companions) are a group of assistants to villains and occasionally heroes of the series. Sometimes they are shown to be neutral, depending on the situations with the villain.
Personality
The Acolytes follow their master's orders, and attempt to the best of their abilities to complete the tasks set for them. However, some members of the acolytes will hold a dislike of being verbally abused by their master.
Some of the acolytes aren't able to talk properly and are capable of intelligible speech, making them somewhat inferior towards their master.
Classification
Bodyguard-Acolytes
The Bodyguard-Acolytes are aggressive types of Acolytes that serve as an attack squad to the villain. Their job is to attack opposing forces such as heroes, who are trying to stop the villain.
Passive-Acolytes
The Passive-Acolytes are harmless types of Acolytes that serve as a non-attack squad to the villain. Their job varies on transporting the villain or finding anything to steal for the villain.
Spies
The Spy type of Acolytes are rare types of Acolytes, and are only seen assisting the Criminal Villains. Their only job is to spy on heroes and their facilities for any purpose for the villain.
Henchmen
The henchmen type of Acolytes are higher positions for Bodyguard-Acolytes. They serve as the righthandman to the Villain, acting as the second in command to the Acolytes. There is only one so far: Motsuki.
Members
Bodyguard-Acolytes
Passive-Acolytes
Spies
Henchmen