Acrobats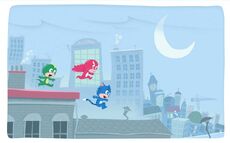 An example of Les Pyjamasques doing acrobats.
Acrobats is the term to describe Les Pyjamasques leisure night routine in Les Pyjamasques picture book series before they start fighting a villain. There are some occasions were the PJ Masks imitate Les Pyjamasques' routine. This term was first mentioned in Les Pyjamasques et le Grogarou.
About
The acrobat routine centers on Les Pyjamasques playing and jumping across the moonlight rooftops. During their typical routine, Les Pyjamasques would have to use their powers as their way of navigation. At most times, their routine is usually interrupted either by a villain attacking Les Pyjamasques or if they saw suspicious activity of a villain.
There is a variant of the Acrobats term known as Hero Moves Practice.
Appearances
The routine appears in most books related to Les Pyjamasques:
Books
Les Pyjamasques et le Grogarou
TV Series