Grogarou

Name

Grogarou

Gender

Male

Allies

Enemies

Les Pyjamasques (formerly)
Roméo

Likes

The full moon

Dislikes

Debut appearance

Voice actor

N/A
Grogarou, also known as Ptigarou, is a werewolf-like character from Les Pyjamasques picture book series, and the original counterpart of Grogarou.
He was the antagonist of the first book, "Les Pyjamasques et le Grogarou". The Les Pyjamasques fought him one night, when they ran onto him. Original Bibou eventually managed to subdue the wolf by blocking out the moon, thus restoring him back to his normal form.
After this, Grogarou became an ally of the Pyjamasques. They gave him a pair of sunglasses to prevent him from transforming again. In the third book, Les Pyjamasques et Roméo Mécano, Original Yoyo took Grogarou's sunglasses off so Grogarou could transform and fight Roméo.
Personality
Under normal circumstances, Grogarou is a friendly wolf about the size of the Pyjamasques. But exposure to the full moon turns him into a significantly bigger wolf who is only interested in causing chaos and doing evil.
Appearance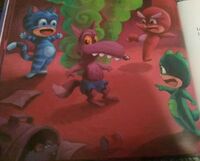 In both of his forms, Grogarou looks like a humanoid wolf with purplish fur. He also wears blue pants, that can shrink and grow along with him.
Powers and Abilities
When exposed to the full moon, he becomes an immensely strong and dangerous wolf, who can easily hold his own against all three Pyjamasques and Roméo's machines.
Community content is available under
CC-BY-SA
unless otherwise noted.