Hero Moves Practice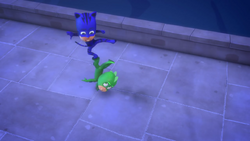 An example of Catboy and Gekko performing some moves practice, shown in the short "Owl Eyes"
Hero Moves Practice is the term to describe the Marvel-influenced counterparts of Les Pyjamasques; the PJ Masks, experimenting with the powers and abilities whenever there's no villains around.
About
The Hero Moves Practice routine is a variation of the Acrobats routine, and it is performed regularly by the PJ Masks whenever there's no villain activity. In this routine, the PJ Masks will practice with their hero moves near the PJ Masks Headquarters and occasionally in the city so that it will be useful for them to use their powers when there's villain activity.
Appearances