Inspired Characters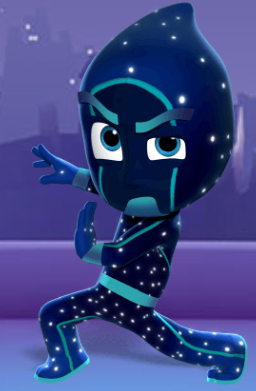 Examples include Night Ninja; an inspiration from Sablotin, Shocker and Iron-Man
Inspired Characters are characters that are inspirations of other existing characters from Les Pyjamasques series as a whole created by Romuald Racioppo and Entertainment One.
Physical appearance
The inspired characters have striking similarities and resemblance to the character that they took inspiration from. Except that their appearances have been given original characteristics and are portrayed slight to radically different.
Many of these examples include Night Ninja; whose appearance is inspired from Sablotin, Shocker and Iron Man, as well as Luna Girl who was inspired from Black Cat and to a less extent, the Goblin.
Another variation is that the inspired characters are combinations of other characters and the environment, this includes the Mitomites; Sorceline's acolytes, were also inspired from Luna Girl's storm clouds and Moths from "Catboy's Cloudy Crisis.
Members
Non-character members
Other than characters, there are some weapons and gadgetry that are inspired either from the TV adaptation of the picture book or the book itself:
Community content is available under
CC-BY-SA
unless otherwise noted.