Nighttime Villains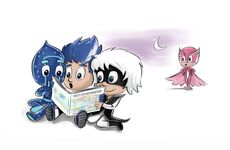 The main bad guys, from left to right; Ninjaka, Roméo Mécano, and Sorceline
Nighttime Villains (also known as Méchants, Villains of the Night, Bedtime Baddies or Wrongdoers) are a group of antagonists (and sometimes anti-heros) in the PJ Masks television series and the Pyjamasques book series. This term originated in the PJ Masks television series.
About
They are a variant of supervillains that come out during the nighttime hours, and like various comic book supervillains - they serve as the foils to nighttime heroes, thanks to their extraordinary brainpower and superhuman abilities. Nighttime Villains concoct complex and ambitious schemes to gain power and suppress their adversaries.
Archetypes
In Les Pyjamasques
The villains in the picture book series are portrayed as the embodiment of mythic and historical figures in a more traditional sense - typically Ancient Greek mythology, such as making attempts on exacting revenge, destruction and malevolence against their heroic adversaries whom spited them. They are very resentful on lacking their rival's qualities; possessions; and achievements, and will fight tooth and nail to get what they want from them as possible, though the villains show self-awareness that their malicious plans would often ruin things for everyone else. Despite their hostile nature, the villains are willing to take advice from their heroic rivals on learning to be more content of what they have.
In PJ Masks
The villains in the television series are portrayed as regular comic book supervillains with naughty and mischievous qualities, such as making attempts to freely cheat, lie, steal, and/or destroy things. They are very unruly and narcissistic, and will almost always put themselves above everyone else. The only ones the villains really care about are their sidekicks, but they still order them around and disrespect them most of the time.
Members
In Les Pyjamasques
Les Farfeloups
Pumpkin Monsters
In PJ Masks