If you want to see the mainstream equivalent, see School.
School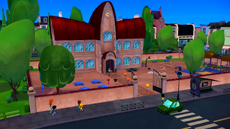 The setting of most daytime scenes.
Official Name

School

Aliases

N/A

Continuity

Planet

Earth

Country

U.S.

City

Unknown

Locale
The School is a building in which it serves as a TV counterpart of the School, and is seen in most of the TV series' daytime scenes.
There is an unnamed Teacher that teaches Connor, Greg, Amaya and Cameron's class, but it is uncertain which grade he teaches.
There is also a playground that several scenes are set in, such as when Amaya won a basketball game with a lucky shot.
Trivia
Unlike other continuities of the school, Roméo Mécano's TV counterpart (Romeo) is not considered a student of the school.
The school is mentioned in "Gekko's Super Gekko Sense," when the PJ Masks said "PJ Masks, we played it cool, and in the night, we saved our school!"
In "All About Asteroids," Greg asks Newton Star which school he goes to, which could indicate that this is not the only elementary school in Tarabiscoville. This could also explain why the nighttime villains and Armadylan are never seen attending this school. However, Newton's biography on the PJ Masks site states he is from another city, and thus most likely goes to school there.