"PJ Masks, we're on our way, into the night to say Happy Season 5 day!" aka Friday the 13th!
Today's season premiere episode was awesome, and as an treat for seeing the episode, I've decide that's its time to decorate my user page by adding a few pictures and colors. In addition, I'll let you get to know me better; I'm a college student (favorite subjects: math and science), I love anime, singing and solving puzzles (word finds and jigsaw puzzles)!
I hope you that you know a little better when I'll helping in this wiki, and for old times sake: "PJ Masks all shout hooray, 'cause in the night we saved the day!"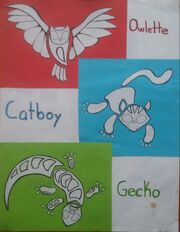 My favorite pages