Wiggly Wordy Wand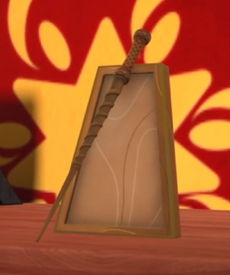 From Season 4, Episode 12B "Gekko Loves Lionel"
The Wiggly Wordy Wand is a relic located inside the pagoda on Mystery Mountain. It has the ability to juggle people's words around when they chant a spell, and its lasting effects are only temporary. It makes its first appearance in the Season 4 episode "Gekko Loves Lionel."
Believing that Munki-gu was using mountain power to make Lionel his, Gekko used the wand as an attempt to get him back. However, he only made him roar, next itch, then grow. The next time he used the wand on him, he was granted the three effects, plus floatation. An Yu later arrived to retrieve it, thinking that Munki-gu took it, until Gekko informed her that he was the one who did it. After the effects wore off and Lionel was saved, the wand was most likely returned to where it belongs.