Zoo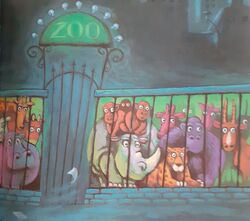 Location
Official Name

Zoo

Aliases

N/A

Continuity

Planet

Earth

Country

France

City

Paris

Locale
The Zoo was a place where the animals were formerly preserved, and it was run by Gatzo. It makes its only appearance in "Les Pyjamasques au zoo".
Gatzo's intentions on using the zoo was to lock up animals in a tight cage. And in order to get a fortune, he needed people to pay money to see the animals respectively. During that time, the animals were physically abused by Gatzo due to their insistence on being freed to the wild.

However, this lasted when Les Pyjamasques decided to liberate the zoo once and for all to free the animals from the zoo, and banished Gatzo to the Île Imaginaire from abusing the animals.
Community content is available under
CC-BY-SA
unless otherwise noted.