For the location's book counterpart, see Zoo.
Zoo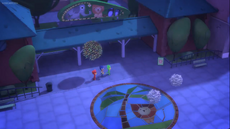 Location
Official Name

Zoo

Aliases

N/A

Continuity

Location
The Zoo is the place where the animals are preserved, and is the cartoon counterpart of the Zoo. It first appeared in "Catboy and the Butterfly Brigade," then in "Owlette's Feathered Friend."
Unlike its book counterpart, it is portrayed as a sanctuary in a more positive light rather than looking like a literal prison for trapped animals.
Gallery